Vampires

Name

Vampires

Race

Demons/Undead Creatures

Gender

Males
Females

Occupation

Demons of the night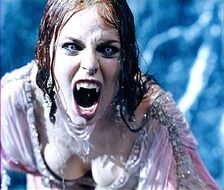 Vampires are Immortal creatures of the Night who need human Blood to live. They hunt human down in day or night and try to stay alive by drinking blood. They're mission is to bring their children to life
Role In The Movie
Edit
They are the main enemy in the 2004 Van Helsing Movie They try to kill Anna the last of the Valerious who is the only one left. They also want they're children to live but are killed first one of the brides Marishka then Verona and Aleera and in last Dracula.
Ad blocker interference detected!
Wikia is a free-to-use site that makes money from advertising. We have a modified experience for viewers using ad blockers

Wikia is not accessible if you've made further modifications. Remove the custom ad blocker rule(s) and the page will load as expected.