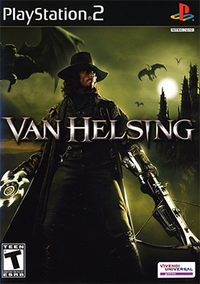 A video game was made following the Van Helsing Movie. It is a third-person shooter game. The character Van Helsing is used to hunt down Dracula, similar to the plot of the film, but the character of Carl is not at all present. Anna Valerious, Velkan, the Vampire Brides and other characters are portrayed the way they appear in the film. This game is just like the movie with few changes how these characters die and all that. In this game a lot of places in the movie are shown the forest the carriage ride and etc. As we move further we encounter the brides just like the movie and in the end Dracula we also face some other enemies also along the way.
List of Enemies
Edit
Along with main villains from the film, the enemies Van Helsing encounters in the game are:
skeletons
flying skulls
small werewolves
skeletons armed with swords
bats
Dracula's children
Ad blocker interference detected!
Wikia is a free-to-use site that makes money from advertising. We have a modified experience for viewers using ad blockers

Wikia is not accessible if you've made further modifications. Remove the custom ad blocker rule(s) and the page will load as expected.